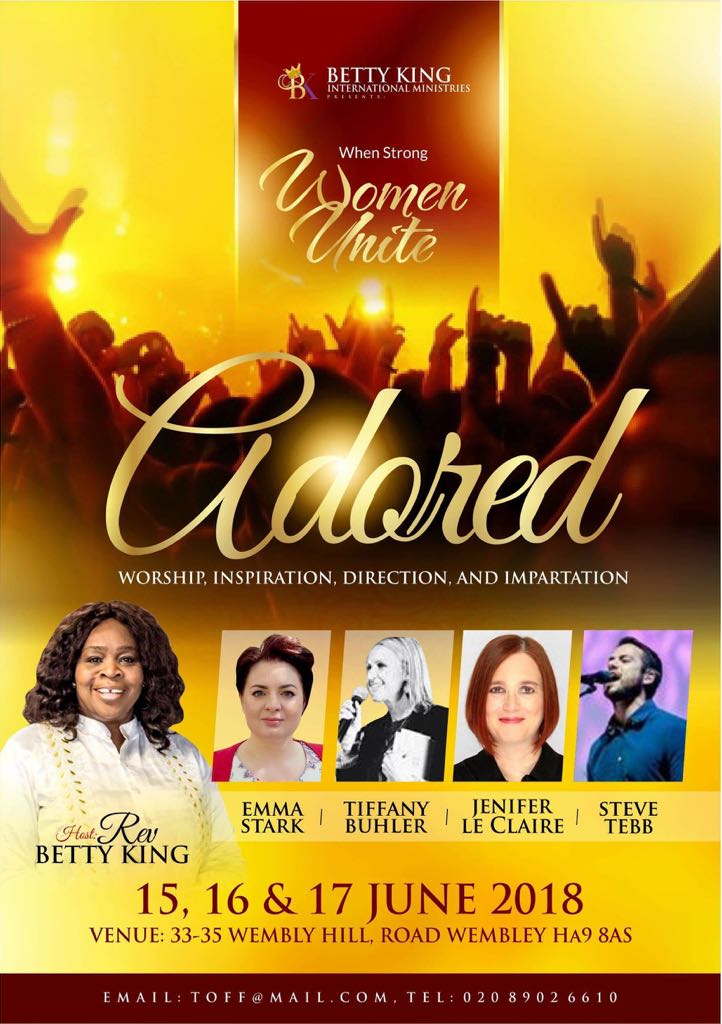 Hi All
We are ecstatic and thrilled to invite you all to the 'When strong women unite' 2018 event, titled 'ADORED'. When Strong Women Unite is an annual event held and hosted by Betty King International Ministries.
This is a Christian event for women of faith from all walks of life to come together to unite, to be strengthened, to be empowered and refreshed to do life with God and with one another to the fullest.
This transformational prophetic event will empower you to embrace the strength and grace that God has given you, to live a life full of purpose, identity and vitality. We can be all that God has called us to be when we know how much we are loved and adored.
We have some remarkable female speakers this year who against all odds, trusted God, stood their ground and changed their story.
Join us for a time of worship, inspiration, direction and impartation that will surely change your life for the greater. Together we are stronger in God's love!
The speakers and ministers are as follows:
• Host: Rev. Betty King
• Emma Stark
• Tiffany Buhler
• Jennifer Le claire
• Worship Leader Steve Tebb
This year truly promises to be even more life changing than the last.
Venue information:
Truth Vine Church
33-35 Wembley Hill Road
Wembley
London HA9 8AS
The event times are the below:
Friday 15th June 2018 – 6pm to 9.30pm
Saturday 16th June 2018 – 10am to 9.30pm
Sunday 17th June 2018 – 11am to 3pm
Price:
£10 (plus eventbrite fees) for 3 days
For any further queries please contact us at:
Email: toff@mail.com
Tel no. 02089026610