Sean Dayton is a recording artist from North Bay, Ontario. He has released 5 albums along with his wife, Aimee, and garnered several GMA Canada awards and is on tour performing in the UK for the first time.
In his latest musical project, Dayton has set the Psalms to music. With this EP, he hopes to take people on a rich musical and spiritual journey through the Psalms.
https://www.youtube.com/watch?v=25Qsx_H64zA
Come and experience Sean Dayton's Psalms Experience at the ancient and beautiful church of St Anne in the historic community of Catterick, where people have been singing in the midst of the joys and challenges of life for generations…
This is Sean's only visit to the North of England during his tour of the UK  and we hope you will be able to join him here in Catterick Village on the 8th May www.seandayton.bandpage.com
More about Sean Dayton…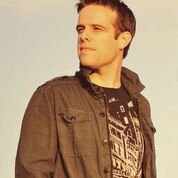 Sean Dayton has toured extensively across Canada as well as the United States performing with artists like Aaron Shust, Paul Baloche, and Brian Doerksen.
He has performed live on Canada's nationally broadcast "100 Huntley Street" and his song "Heartbeat" won 1st place in the International Songwriting Competition (Gospel/Christian category).
There will be an opportunity to purchase Sean Dayton's albums, refreshments and a licensed bar at this event. Doors open at 18.15 and the event will begin at 1900hrs
There is a disabled access, toilet facility and loop system at St Anne's Church. Access is via a gravelled path from High Green. Parking near the church is limited.